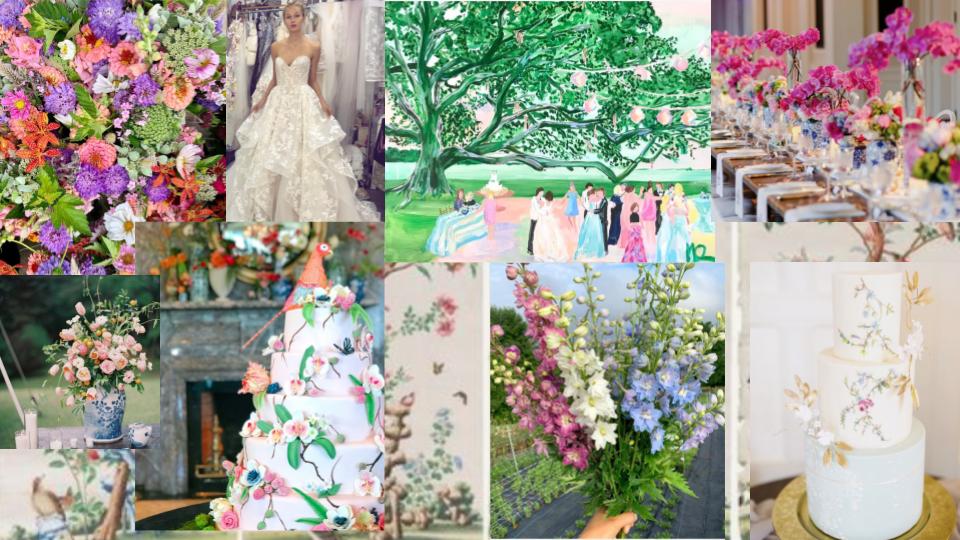 Not the prettiest picture but my actual wedding inspiration I threw together in Google Slides back in January after we had been engaged for a month but didn't have our venue or date picked. Most of these pictures were saved on my Instagram bookmarks, pinned on my Pinterest boards or screenshot on my phone for years! What can I say, I know what I like.
So the "theme" (that makes it seem like its a theater play lol) for our wedding is Garden party meets Bridgerton. We are getting married at an old DuPont estate with beautiful gardens, colorful walls and classic design elements, like ginger jars and greek key motifs. After picking the venue I wanted to pull in these elements to our decor, paper goods and more. I mean, did you expect me to have a basic white wedding?! No! I need color and personality.
I want the "vibe" (lol at another word that sounds tacky) of the wedding to be "fancy but not fussy". I'm paying close attention to detail but I want everyone to have fun, feel warm and welcome and not like the affair is stuffy or showy. I plan to add personal touches throughout, with nods to mine and Will's relationship together.
What do you guys think? Did you expect this for my wedding inspiration?